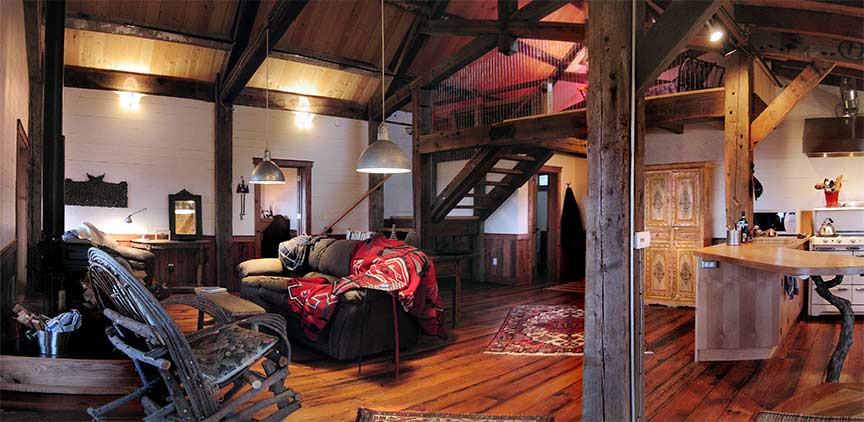 the New Artists' Loft is a special retreat for two to five persons, with a screened porch and views from the peaks of the Cuyamacas to the islands off the coast of Southern California... we offer the New Artists' Loft as a private housekeeping cabin with do it yourself "first breakfast" that includes free range eggs, fresh juice, a local bread, coffees and teas, and most condiments..... all the personal touches of a B&B, but with complete privacy, and on your own schedule.....Couples, or singles seeking solitude, can rent only the Sunset Suite, we will close off the other suite for your stay. With both suites and the loft the cabin can accommodate five persons.
The structure is a true timber frame with scissor trusses and real mortise and tenon joints with wood pegs ... Features of the loft include a large kitchen with a 1952 O'Keefe and Merritt range with griddle and "grillovator". The spacious living room has a very efficient wood stove and two sets of French doors that open onto the large screened porch. There are two separate, very private, bedroom suites, each with a private bath. The Sunset Suite has a jetted tub and the Sunrise Suite has a deep soaking tub with air jets.
For the creative moments, we have furnished the loft over the living room with a day bed, an easel, and a bit of seclusion for creating, or relaxing or thinking....

click the images for more photos
Weekend and Holiday rates for the New Artists' Loft are: -$245 per night for one or two persons, one bedroom suite, $310per night for one to four persons,There is a two night minimum stay.
Midweek stays (Sunday through Thursday) of two or more nights are $220 per night for one or two persons, one bedroom suite, $280 per night for one to four persons, two bedroom suites.
The open loft in the main great room with single bed can accomodate one additional person for an additional $35 per night. All rates are subject to room taxes of 8% . We are sorry, but no pets, please.
the New Artists' Loft, Julian California
for reservations and availability, call us at
760-765-0765
between 9 AM and 9 PM, Pacific Coast time...
---
we read our e-mail in the evenings
so, with that in mind,
send some if you like

click here for

---